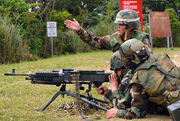 On firearms, tripods are commonly used on machine guns to provide a forward rest and to reduce motion from recoil. Machine guns are capable of firing long continuous bursts of fire, but at the cost of increased recoil (which decreases accuracy), and increased weight (machine guns are heavier in order to absorb the stresses of prolonged fully automatic fire). The tripod permits the operator to rest the weapon on the ground and thus the gun feels lighter to the shooter and accuracy is increased.
Tripods are generally restricted to heavier weapons where the weight would be an encumbrance. For lighter weapons such as rifles, a bipod is more common.
See also
Edit
References
Edit
Ad blocker interference detected!
Wikia is a free-to-use site that makes money from advertising. We have a modified experience for viewers using ad blockers

Wikia is not accessible if you've made further modifications. Remove the custom ad blocker rule(s) and the page will load as expected.