This page gives a short list of small arms used by Anti-communist forces in the Vietnam War.
Small arms
Edit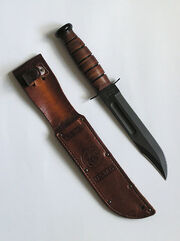 Knives/bayonets
Edit
Pistols & revolvers
Edit
Infantry rifles
Edit
Submachine guns
Edit
The shotguns were used as an individual weapon during jungle patrol; infantry units were authorized a shotgun by TO & E (Table of Organization & Equipment). Shotguns were not general issue to all infantrymen, but were select issue, such as one per squad, etc.
Machine guns
Edit
Grenades and mines
Edit
Grenade launchers
Edit
Flamethrowers
Edit
Ad blocker interference detected!
Wikia is a free-to-use site that makes money from advertising. We have a modified experience for viewers using ad blockers

Wikia is not accessible if you've made further modifications. Remove the custom ad blocker rule(s) and the page will load as expected.