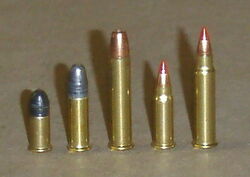 A rimfire is a type of firearm cartridge. It is called a rimfire because instead of the firing pin of a gun striking the primer cap at the center of the base of the cartridge to ignite it (as in a centerfire cartridge), the pin strikes the base's rim.
The rim of the rimfire cartridge is essentially an extended and widened percussion cap which contains the priming compound, while the cartridge case itself contains the propellant powder and the projectile (bullet).
Once the rim of the cartridge has been struck and the bullet discharged, the cartridge cannot be reloaded, because the head has been deformed by the firing pin impact.
While many other different cartridge priming methods have been tried since the 19th century, only rimfire technology and centerfire technology survive today in significant use.
References
Edit
Ad blocker interference detected!
Wikia is a free-to-use site that makes money from advertising. We have a modified experience for viewers using ad blockers

Wikia is not accessible if you've made further modifications. Remove the custom ad blocker rule(s) and the page will load as expected.