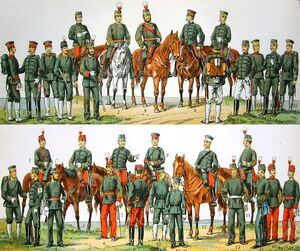 An army (from Latin arma "arms, weapons" via Old French armée, "armed" (feminine)), in the broadest sense, is the land-based military branch, service branch or armed service of a nation or state. It may also include other branches of the military such as the air force via means of aviation corps. Within a national military force, the word army may also mean a field army an army composed of full-time career soldiers who 'stand over', in other words, who do not disband during times of peace. They differ from army reserves who are activated only during such times as war or natural disasters.
In several countries, the army is officially called the Land Army to differentiate it from an air force called the Air Army, notably France. In such countries, the word "army" on its own retains its connotation of a land force in common usage. The current largest army in the world, by number of active troops, is the People's Liberation Army of China with 2,250,000 active troops and 800,000 reserve personnel followed by the Indian Army with 1,325,000 active troops and 2,142,821 reserve personnel.
By definition, irregular military is understood in contrast to regular armies which grew slowly from personal bodyguards or elite militia.
Armies as armed services
Edit
Western armies are usually subdivided as follows:
Field army
Edit
A field army is composed of a headquarters, army troops, a variable number of corps typically between three to four, and a variable number of divisions, also between three to four. A battle is influenced at the Field Army level by transferring divisions and reinforcements from one corps to another to increase the pressure on the enemy at a critical point. Field armies are controlled by a General or Lieutenant General.
Formations
Edit
A particular army can be named or numbered to distinguish it from military land forces in general. For example, the First United States Army and the Army of Northern Virginia. In the British Army it is normal to spell out the ordinal number of an army (e.g. First Army), whereas lower formations use figures (e.g. 1st Division).
Armies (as well as army groups and theaters) are large formations which vary significantly between armed forces in size, composition, and scope of responsibility.
In the Soviet Red Army and the Soviet Air Force, "Armies" were actually corps-sized formations, subordinate to an Army Group-sized "front" in wartime. In peacetime, a Soviet army was usually subordinate to a military district.
References
Edit
Script error